China's Rare Earth Export Cutbacks Raise Alarms

Prices for rare earth elements -- an important component in motors and other electromechanical products -- have jumped by at least an order of magnitude over the past year as a result of export cutbacks from China, the world's largest source of the elements. Alternative supplies promise to provide a surplus, but not as soon as manufacturers using this materials might like.
Rare earth elements such as neodymium (Nd) and dysprosium (Dy) play essential roles in products ranging from motors to white-light LEDs. Permanent magnets containing Nd typically produce magnetic fields five or more times as large as those produced by ferric magnets. The addition of Dy prevents them from demagnetizing at high temperatures. Those attributes make rare earth magnets highly appealing for motor applications.
However, in the past year or so, changes to export quotas by China have sent prices soaring, leaving motor designers in a fix. Solutions range from the old (ferric or even aluminum-nickel-cobalt magnets) to the new (leveraging nanotechnology to get more performance out of smaller amounts of rare earth materials). There's also the obvious route of establishing new supplies.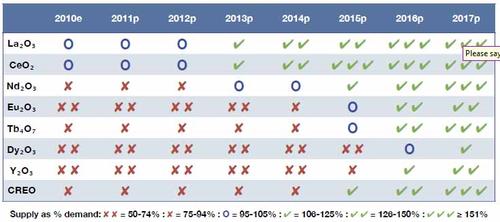 Projections reveal potential supply status for rare earth oxides. Note: CREO (critical REOs) encompasses Nd, europium (Eu), terbium (Tb), Dy, and yttruim (Y). (Image courtesy of Technology Metals Research Inc.)
That approach -- opening or reopening mines outside China -- is already under way around the globe. Molycorp Minerals LLC of Greenwood Village, Colo., has secured permits and $781 million in funding to reopen the Mountain Pass mine in California, which was priced out of the market in 2004. According to a new report from Technology Materials Research LLC of Carpentersville, Ill., sufficient sources exist outside China to compensate for the export cuts as early as 2013 for some elements. (See chart.)
The name notwithstanding, rare earth elements, typically processed as rare earth oxides (REOs), are only scarce when compared with abundant elements like iron and aluminum. Significant deposits exist around the world in locations as varied as South Africa and California. China's current position as the dominant global supplier derived from a mix of circumstances.
Several light REOs are the byproducts of iron ore mining, which is one of China's staple industries. The steps required to extract REOs typically involve toxic or even radioactive materials. And in the past, Chinese suppliers have been subject to less stringent environmental regulation than their international competitors, which helped them undercut prices and ultimately capture around 95 percent of the market.
Though the Chinese government began reducing exports of rare earth materials earlier, the skyrocketing prices can be tied to quota cuts that were imposed in the fall of 2010 and led to a year-over-year reduction in tonnage of around 40 percent.
"There was a significant drop in the official export numbers that was reflected in the price for exported materials," says Gareth Hatch, founding principal at TMR. "It caused some efforts within China to stockpile heavy rare earths. Suppliers started applying a surcharge."

The acquisition model began to change. The price jumps have even affected domestic manufacturers, Hatch says. "What we see in the magnet industry in China is that there are definitely supply issues for the neodymium-based alloys. I've heard numerous people say, 'My magnet quote is usually good for 30 days before I place the order. Now the Chinese magnet guys say we have two days to place the order, and they need 50 percent of the money up front, and they will tell us what the final price will be on delivery.' It has just completely changed the whole dynamics of the industry."
Interestingly, though perhaps not surprisingly, the price issues are not tied to any sort of absolute shortage.
"The actual supply of these materials has not been in jeopardy," he said. "The irony is that the export levels have not been met. In other words, the legal official channels for exporting these materials have produced a lower volume of exports than the limit."
Nevertheless, prices continue to rise and have spurred the search for
alternative technologies
and suppliers. Hatch follows 381 rare earth projects, of which 20 involve proven resources or have been targeted for focused development. "The thing I get asked a lot is when is this going to sort itself out. There are a couple of projects [under way] in Australia and South Africa. In the next couple of years, we will have new sources for some of these materials, so we would expect the price to come down on the light rare earth elements."
In particular, his projections indicate that Nd supply, including Chinese exports, will outstrip demand by 2013. Heavy REOs like Dy won't equalize until closer to 2016. Beginning in 2013, Australia will be the primary non-Chinese source of REOs, with Canada and the United States following a few years after.
To learn more, download Hatch's
free report here
. It provides an enormous amount of detail on hold sources, new sources, and supply scenarios for all the relevant materials.
The good news is that the situation will improve. The bad news is that you have to design products now. These facts present a quandary. If your development timeline is three years, do you stick with rare earth magnets and assume prices will equalize by the time your product goes into volume production? Or do you turn to an alternative technology, trading price for size and performance?
Hatch's advice is not to make rash decisions. "Rare earth-based alloys and components do some really amazing things. I can understand folks wanting to design the pain of the price out, but it just depends on how far out you can go with either reducing size or tolerating cost increases. I say don't throw the baby out with the bathwater."
----- Forwarded Message -----


From:

binh nguyen <binh_nguyen98@yahoo.com>


To:

Binh Nguyen <binh_nguyen98@yahoo.com>


Sent:

Saturday, September 24, 2011 3:05 AM


Subject:

[CLBcSVVNtNB] China's Rare Earth Export Cutbacks Raise Alarms
VN là khu vực có khả năng có nhiều loại đất hiếm với trữ lượng lớn, và có giá trị cao .
NT Bình